Verschoben
Bisheriges Datum:
Too Many Zooz
Brückenstrasse 2
68167
Mannheim
Event organiser: Alte Feuerwache Mannheim gGmbH, Brückenstrasse 2, 68167 Mannheim, Deutschland
Information on concessions
Bei Schwerbehinderten mit Ausweis B ist die Begleitperson frei.
Bitte vorher beim Veranstalter anmelden.

Bei Fragen wenden Sie sich bitte an:
Alte Feuerwache Mannheim gGmbH
Brückenstr. 2
68167 Mannheim
Tel.: 0621/ 293-9281
Fax: 0621/ 2939293
E-Mail: info@altefeuerwache.com
www.altefeuerwache.com
Event info
The curious thing about being a fan of Brasshouse? You're pretty much talking about being into one solitary but extremely unforgettable band: the amusingly monikered Too Many Zooz.

The musical style was "branded" by drummer King of Sludge, who recognized that there was no worthy existing classification for the New York trio, whose other two members are the equally unclassifiable Leo P. (saxophone) and Matt Doe (trumpet).

"Brasshouse is a high energy musical conversation," Matt insists. "Though I honestly don't think there is a good way to describe it in words. It's about many different feelings and sounds and emotions."

Or as KOS so decisively puts it, "I don't really care about what's happening in music - I just make art that I enjoy making."
Location
Alte Feuerwache
Brückenstraße 2
68167 Mannheim
Germany
Plan route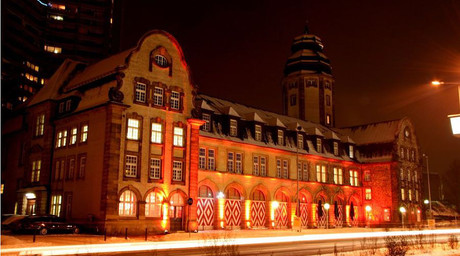 Die "Alte Feuerwache Mannheim" gehört zu den wichtigsten Kulturzentren Mannheims. In unmittelbarer Nähe zum Neckarufer entwickelte sich ein Raum für Künstler aller Art, der seit Jahren als Schmelztiegel und Musiker-Treffpunkt gilt.

Die "Alte Feuerwache" wurde Anfang des 20. Jahrhunderts erbaut und sollte in den 1970er Jahren wieder abgerissen werden. Nur das Engagement der Bürgerinitiative "Musikwerkstatt Alte Hauptfeuerwache e.V." konnte dies verhindern. Es folgten unzählige Konzertveranstaltungen und aus der kreativen Zusammenarbeit vieler Musiker gingen zahlreiche Bands und Formationen hervor. Schon bald war das Kulturzentrum ein Publikumsmagnet für den gesamten Rhein-Neckar-Raum. Heute bietet das renovierte Haupthaus Platz für Konzerte, Festivals, Lesungen und Partys. Das bunte Programm wird durch ausverkaufte Veranstaltungen bestätigt.

Die "Alte Feuerwache Mannheim" ist ein Juwel der deutschen Kulturlandschaft. Es gehört zu den schönsten Etablissements der Region. Tauchen Sie ein in ein wichtiges Stück Stadtgeschichte und sehen Sie Künstler aus aller Welt.