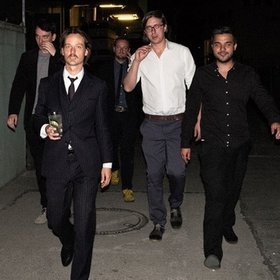 TOM SCHILLING & THE JAZZ KIDS - - Neue Lieder über die Liebe und den Tod -
Juri-Gagarin-Ring 140A
99084
Erfurt
Event organiser: Konzertagentur Appel & Rompf GmbH Co. KG, Heckerstieg 3, 99085 Erfurt, Deutschland
Event info
Tom Schilling – Der mit dem Bambi ausgezeichnete Schauspieler ist bekannt für seine Rollen in unzähligen Produktionen wie "Oh Boy", "Woyzeck", "Der Baader Meinhof Komplex", "Tatort" und vielen weiteren. Doch neben der Schauspielerei betätigt sich der Berliner schon lange als Musiker, der seine eigenen Lieder komponiert und schreibt. Es waren aber The Jazz Kids von Nöten, sein musikalisches Schaffen in die Öffentlichkeit hinauszutragen.

Denn zunächst war Tom Schilling der Meinung, es gäbe schon genügend singende Schauspieler. Als er jedoch auf die Filmmusiker Chris Colaco und Phillip Schraeper traf, war dies die Geburtsstunde von The Jazz Kids. Aber die Formation spielt so viel Jazz, wie Kinder in der Band sind. Vielmehr gibt es eine gesunde Mischung aus Chanson und Indie-Pop zu belauschen.

Mit seiner Band The Jazz Kids begeistert Tom Schilling nun auch abseits der Leinwand. Hier gibt es Lieder vom Abgrund oder auch klassische Moritaten zu hören, und deutscher Chanson erlebt eine Renaissance. Seien auch Sie dabei und erleben Sie das Multitalent live!